MONOTREMES & MARSUPIALS FABRIC BLOG TOUR
By Australian Designer, Amanda Brandl
Welcome, welcome, WELCOME to Amanda Brandl's Monotremes & Marsupials Fabric Blog Tour, where you will discover lots of gorgeous Australiana fabric projects in the making! We are so excited to accounts that Amanda brandl's next fabric tour and blog hop begins on the 15th January!
Our Australiana collection is so popular in Australia and overseas so follow our social media platforms, as talented makers from all over the world share their projects made from Amanda Brandl's current fabric lines, Monotremes & Marsupials. Check out the full schedule below!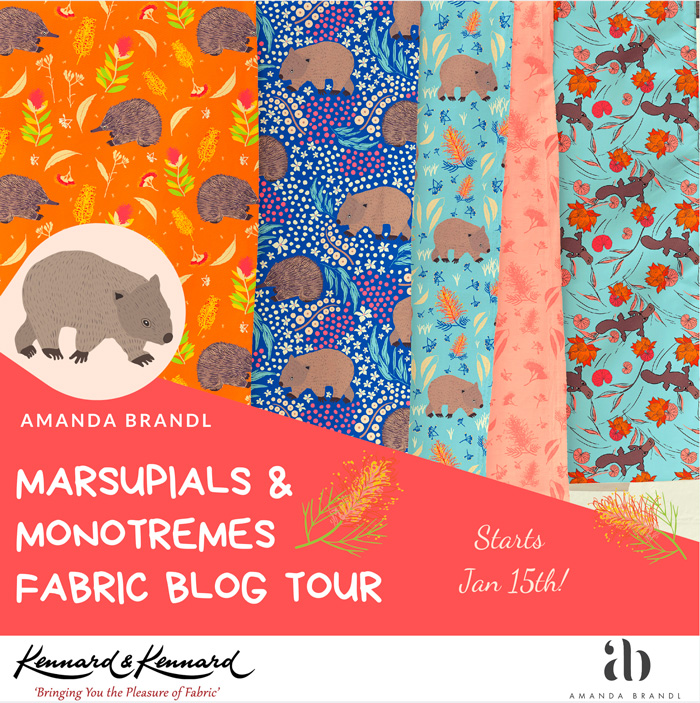 Discover the Collection:
Monotremes & Marsupials: View Collection It features platypus, echidnas, wombats and of course native Australian flora... Waratahs, bottle brush and more!
Join us each day to follow the blog tour and see the amazing works from many talented ladies sewing with this collection! You can join the fun! Just share you own projects on Facebook, twitter and instagram using the hashtag #Marsupialsandmonotremes. We can't wait to see what you make!
BLOG TOUR DATES & DETAILS:
Everyone's blog post will be linked on the day that their project is posted. Please check back here to see the updated blog links added each day!
Tuesday January 15th: Ange Hamilton | A Little Patchwork
Wednesday January 16th: Kylie | Wombat & Poss
Thursday January 17th: Alison Teo | Perelandra Fabric
Friday January 18th: Anorina Morris | Samelia's Mum
Saturday January 19th: Ahn Nguyen | Ana ma Petit Tresor
Monday January 21st: Gisella Doyle | Stitch Bake Craft Make
Tuesday January 22nd: Samantha Green | For The Love of Fabric
Wednesday January 23rd: Sharon Burgess | Lilabelle Lane Creations
Thursday January 24th: Ali Phillips | Arabesque Scissors
Friday January 25th: Rose Johnstone | Threadbare Creations
Monday January 28th: Kat Bradshaw | Cloth Yarns
Tuesday January 29th: Vickie Zaleski | Crocheting Vixen
Wednesday January 30th: Elise Baek | Elise & Emilie
Thursday January 31st: Wendy Gontier |Wehago Designs
Friday February 1st: Raylee Bielenberg | Sunflower Stitcheries
Saturday February 2nd: Sylvia Berkett | Alisellou Designs
Monday February 4th: Rachael Daisy | Blue Mountain Daisy
Tuesday February 5th: Kellie | sewMimi.K
Thursday February 7th: Blog Wrap up and thank you!